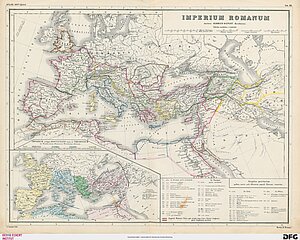 Ancient History is primarily concerned with the written legacy of the ancient civilizations of the Mediterranean world, like inscriptions and texts surviving on other media. Therefore Ancient History's chronological field of research starts with the emergence of literacy during the 2nd millennium BC. According to various conventions it ends at different dates: 306 BC (Constantine the Great's accession to power), 325 BC (First Council of Nicaea), 395 BC (division of the Roman Empire following the death of Emperor Theodosius I), 410 BC (sack of Rome by the Visigoths), 476 BC (deposition of Romulus Augustulus, last Emperor of the Western Roman Empire), 525 BC (death of Justinian I), some even extending it to the Islamic Expansion during the 7th century BC. Geographically it includes all Mediterranean states and those of their neighbours having a close political or cultural connection to them. So the area of interest reaches from Gibraltar in the west to India in the east and from Great Britain in the north to Egypt and Sudan in the south.
Ancient History in the Specialized Information Service Classics - Propylaeum
The Bavarian State Library Munich now maintains the former Special Subject Collection 6.12 "Classical Studies including Ancient History. Medieval and Neo-Latin Philology" in Propylaeum.
The subject is represented by Prof. Dr. Charlotte Schubert (University of Leipzig) and by Prof. Dr. Gregor Weber (University of Augsburg) on the scientific advisory board of Propylaeum.
Current focus of activity
The main focus during the current project stage (2019-2021) is on stock development, i. e. the acquisition and provision of the latest research literature. That includes expansion and development of PropylaeumSearch.
In this context the Gnomon Bibliographical Database will be integrated into the Bavarian Union Catalogue and its connection to PropylaeumSearch will be improved.
The iDAI.gazetteer will be available for PropylaeumSearch on "Linked Open Data – "Digital Classics"".
Another project is our Open Access Aggregator recensio.antiquitatis for reviews of new releases in classical studies, also comprising publications in Ancient History.
Furthermore, a new user service is offered: Upon registering to this service, Propylaeum users can create individual profiles and determine if they would like to be informed on a daily, weekly, monthly or quarterly basis about new accessions via email or RSS feed.
Do you have further questions?
Please contact us if you need more information about our services or are interested in the publishing possibilities we offer. It is also possible to arrange dates for information sessions at your institute or organization.