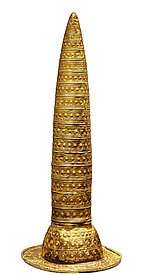 Pre- and Early History is primarily concerned with material remains of the ancient world, like glass, wood, ceramics, bones or artefacts made of stone, its field of study not being confined to the Graeco-Roman culture. Analysis and interpretation of the finds employ typological, socio-historical, scientific (e.g. dendrochronology or radiocarbon dating) or statistical methods. Chronologically, research starts at the beginning of human history in Africa and extends to the High Middle Ages. That means the geographical area is not limited to Europe. Being so widespread, Pre- and Early History connects to several other fields of science: Ancient History, Classical Philology and Archaeology of the Roman Provinces for historical interpretation of ancient literature concerning provinces of the Roman empire.

Pre- and Early History in the Spezialized Information Service Classics – Propylaeum
In succession of its former Special Subject Collection 6.1 "Pre- and Early History" the Bavarian State Library is responsible for the subject on Propylaeum.
Pre- and Early History is represented by Dr. Kerstin P. Hofmann (Römisch-Germanische Kommission of the DAI) on the scientific advisory board of Propylaeum.
Current focus of activity
The main focus during the current project stage (2019-2021) is on stock development, i. e. the acquisition and provision of the latest research literature. That includes expansion and development of PropylaeumSearch.
The iDAI.gazetteer will be available for PropylaeumSearch on "Linked Open Data – "Digital Classics"".
Another project is our Open Access Aggregator recensio.antiquitatis for reviews of new releases in classical studies, also comprising publications in Pre- and Early History.
Furthermore, a new user service is available: Upon registering to this service, Propylaeum users can create individual profiles and determine if they would like to be informed on a daily, weekly, monthly or quarterly basis about new accessions via email or RSS feed.
Do you have further questions?
Please contact us if you need more information about our services or are interested in the publishing possibilities we offer. It is also possible to arrange dates for information sessions at your institute or organization.