History of reception of ancient Egypt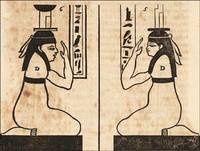 The Thematic Portal is dedicated to the "History of reception of ancient Egypt" and summarises some information about the scholars who have worked and published relevant texts on that topic in the broader sense and about their scientific programs.
As this history includes many different discussions in which various fields of learning are interrelated and interwoven and are not merely part of one coherent discussion about Egypt, this history is by nature transdisciplinary. The forms and transformations of the imagination of Ancient Egypt in the West shall be discussed as it exists in and between different sciences. The reception of Ancient Egypt ("Ägyptenrezeption") deals with the ideas and images of Ancient Egypt arisen in the Western world without the proper understanding of Ancient Egyptian sources, in particular the hieroglyphs.
Furthermore classical and secondary literature is made available online. In the medium term we intend to release a paper series concerning the reception of Ancient Egypt during the ongoing project progression.
The Portal is under construction. It shall make the research in its thematic variety accessible, encourage the scholarly debate and offer an effective and reliable tool of research.